Home › Personal Safety › Safety Wear › Vochoc GoodPRO HR2 FireFly Fire Entry Clothing



Vochoc GoodPRO HR2 FireFly Fire Entry Clothing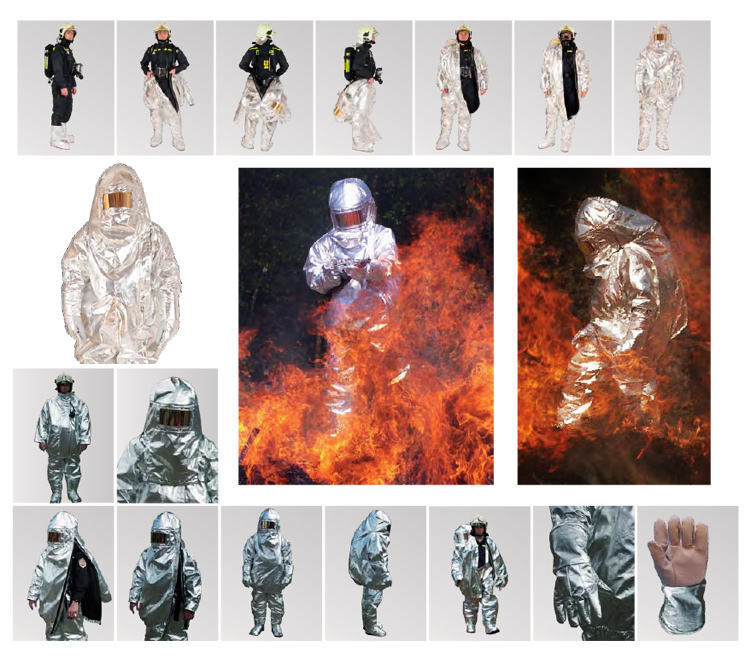 Description:


Special reflective heat and flame retardant garment GoodPRO HR2 FireFly is manufactured in 5 material versions (pg. 15) and 3 basic styles - a coverall with attached hood, a three-piece garment (hood, coat and trousers) or a two-piece garment (coat with attached hood and trousers). It is made from superior materials as a three-layer or four-layer garment. Every garment is supplied with special gloves, shoe covers or special shoes with nitrile sole. The hood is equipped with panoramic safety visor made of glass with a special gold-coated layer. Adjustable sleeves are fitted with special inner Nomex cuffs. The bottom trim of the coat is treated with hidden rubber band to protect against heat. The garment has enough room to accommodate both the oxygen bottle and the mask. The trousers with the higher waist are equipped with adjustable braces and waistband. The trouser legs are designed with a special zipped closure for an easy movement. 5-finger gloves with inner Nomex cuffs contain special silicon treatment to improve mechanical properties of the gloves and ensure non-slip protection of the palms and inner side of fingers.

One size fits all and is easily adjustable. The garments are manufactured according to the customer's specifications. The complete suit is supplied in a bag, which weights approximately 7.9Kg.


Use:


The HR2 FireFly Aluminised suit is designed for special fire fighting and rescue action in extreme conditions. A variation of the suit, HR2 FireFly, is available without the membrane for use in less extreme conditions.

You can use flame resistant under garments for your better protection and comfort.


Part Numbers:


1401, 1402, 1403, 1404, 1405, 1406, 1407, 1408, 1501, 1502, 1503, 1504, 1505, 1506, 1507, 1508, 1601, 1602, 1603, 1604, 1605, 1606, 1607, 1608, 1701, 1702, 1703, 1704, 1705, 1706, 1707, 1708, 1801, 1802, 1803, 1804, 1805, 1806, 1807 and 1808.


Please note - Product designs and specifications are subject to change without notice. The user is responsible for determining the suitability of this product.