Crowcon XgardIQ Gas Detector
The Crowcon XgardIQ is an intelligent and versatile gas detector and transmitter compatible with Crowcon's full range of sensor technologies. Available fitted with a variety of flammable, toxic or oxygen gas sensors.
Providing analogue 4-20mA and RS-485 Modbus signals as standard, XgardIQ is optionally available with Alarm and Fault relays and HART communications. The 316 stainless steel are available with three M20 or 1/2"NPT cable entries.
Features:
OLED display – Bright, clear display indicates gas level and detector status even in dark locations
Non-intrusive calibration – Zero and calibration functions are performed via the display and keypad, without the need for a hot-work permit or any special tools (e.g. no magnetic wand required)
+ve Safety indicator – Confirms the detector is operating safely at a glance
Event log function – Stores all alarm, fault and maintenance events to provide a history of detector use
Get a Quote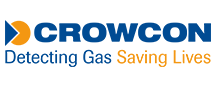 Please note - Product designs and specifications are subject to change without notice. The user is responsible for determining the suitability of this product.