Home › Lightning & Surges Protection › Dehn + Sohne - EXFS 100 / EXFS 100 KU Isolating Spark Gaps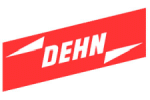 Dehn + Sohne - EXFS 100 / EXFS 100 KU Isolating Spark Gaps
For use in hazardous areas

For indirect connection/earthing of functionally separate parts of installations when being affected by lightning
Device for lightning equipotential bonding according to IEC 62305 in hazardous areas
For bridging insulating pieces, insulating flanges etc. in cathodic protected pipe sizes
For safe application in explosive protection zone 1 (gases) or 21 (dust)
Considerably low sparkover voltage
Considerably high a.c current withstand capability

EXFS 100: Isolating spark gap for use in hazardous areas with plastic coated and threaded M10 sockets.

EXFS 100 KU: Isolating spark gap for use in hazardous areas with 2 m connecting cables for underground installation.

The Ex isolating spark gaps of the EXFS 100 / EXFS 100 KU product family are used when conductive parts of installations situated in hazardous areas cannot be connected directly with each other.

The low sparkover voltages of the spark gaps have proved themselves for protection especially for separate installation parts with only low insulation resistance against each other.



EXFS 100 Specifications (923 100)
EXFS 100 KU Specifications (923 101)




ATEX-certified isolating spark gap for lightning equipotential bonding according to IEC 62305 with low sparkover voltage.



No special regulations have to be observed for safe application in zone 1 with gas atmospheres or zone 21 with combustible dust.

With a tested maximum lighting impulse current of 100 ka, EXFS 100 / EXFS 100 KU meet class H, i.e the maximum class of lightning impulse current strength according to EN 50164-3 "Lightning Protection Components (LPC) - Part 3: Requirements for isolating spark gaps".

The ATEX-certified spark gaps EXFS 100 / EXFS 100 KU provide approved safety according to harmonised European standards.

For connecting EXFS 100 spark gaps, prewired connecting cables with different lengths are available as accessories.

Flat and angled connection brackets (IF) make it easier to connect the spark gaps to pipe flanges.

EXFS 100 KU types are enclosed by a damp-proof plastic coating and can therefore be ideally used for underground installation for insulating couplings.
Accessories for this product include 923011, 923016, 923025, 923035 and 923045.

Please note - Product designs and specifications are subject to change without notice. The user is responsible for determining the suitability of this product.