Home › Lightning & Surges Protection › Dehn + Sohne - EXFS L / EXFS KU Isolating Spark Gaps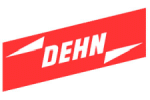 Dehn + Sohne - EXFS L / EXFS KU Isolating Spark Gaps
For use in hazardous areas

For indirect connection/earthing of functionally separate parts of installations when being affected by lightning
Device for lightning equipotential bonding according to IEC 62305 in hazardous areas
Corresponds to "ATEX Directive" 94/9/EC
Corrosion-resistant enclosure made of zinc die casting with plastic cover and flexible conductor connection
For bridging insulating pieces, insulating flanges etc. in pipe sections with cathodic corrosion protection
Highly loadable unit

EXFS L: Isolating spark gap for use in hazardous areas with flexible connecting cable.

EXFS KU: Isolating spark gap for use in hazardous areas with 1.5 m connecting cables for underground installation.

The Ex isolating spark gaps of the EXFS L / EXFS KU product familY are used when conductive parts of an installation which cannot be interconnected directly in hazardous areas. This affects, for example, pipe sections supplied with cathodic corrosion protection system.

ATEX-certified EXFS L / EKFS KU spark gaps provide approved and tested safety in accordance with harmonised European standards.


EXFS L100 Specifications (923 060)
EXFS L200 KU Specifications (923 061)
EXFS L300 Specifications (923 062)
EXFS KU Specifications (923 019)




ATEX-certified isolating spark gap for lightning equipotential bonding according to IEC 62305, approved device with flexible conductor connection.



The approved type EXFS L with flexible conductor connection adjusts itself quickly to any application environment.

The prewired spark gaps provide connecting cables with different lengths with cable lugs, M10 screws and nuts. The flat or angled connection brackets (IF), which are available as accessories, allow for easy connection of the spark gap to pipeline flanges.

Type EXFS KU is enclosed by a damp-proof PVC enclosure and can be ideally used for underground installation at insulating couplings.
Please note - Product designs and specifications are subject to change without notice. The user is responsible for determining the suitability of this product.